I was reading a book today, by famed stockmarket investor WARREN BUFFETT today! He talked about the market that was struggling at the moment but did not seem to flinch. When you look at a weekly chart of the S&P things do not look that good! Take a quick peek of the updated chart and listen to what warren said…. First, Here is the current weekly chart of the S&P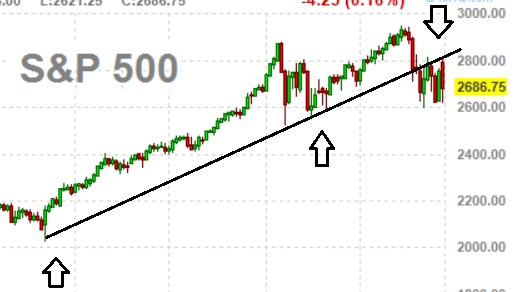 Are you scared of a market crash right now WARREN? A your reporter asked!
Well, he paused, and look bemused at this young female and said - "It does not matter what market you are in, you need to realize you are investing for a reason, otherwise you would not be in this game. You are in this to make money and it all comes down to how you have educated yourself during good market phases and bad market phases"
Very wise words! …What Warren means here is, as an investor you need to realize, with the stockmarket, bonds, treasuries, or even crypto market there is a learning curve…..
As a crypto investor you need to realize, you might not hit on a coin that will make you rich overnight, but the more education you give yourself, the better chance you have of creating success over the long run.
When it comes to educating yourself about crypto, Remember these 11 RULES!!… :-
1 ) The one easy way to become worth 50 percent more than you are now — at least — is to hone your crypto communication skills — both written and verbal.
2) Dont buy when everyone else is, learn from behavioral patterns and reasoning. Study these patterns and use it to your advantage. History shows that if you buy when others are panic selling, it can work out for you down the track.
3) You can have all the brainpower in the world, but you have to be able to transmit it, and most crypto investors fail to do this because they fall victim to their own emotions because they have no strategy. Do fall victim to this.
4) Get out and meet people, because it can lead to deals, investment opportunities and this can have huge effects on your life. This is how I met my wife.
5) Learn from others smarter that you in the crypto game.
6) Invest in watching hours of video, audio, text and buy courses in crypto, realize there are billionaires out there throwing out their crypto knowledge and experience that is almost invaluable.
7) Spend 1 week every six month and sit down, and find out the latest and greatest in crypto. What was big last year, like ICO's is almost ancient news today. Things in crypto move fast, so realize this and make sure you are up to speed.
8) Day traders are losing lots of money in crypto. Learn how to be a longer term investor, and realize day to day swing can kill your account. Learn to be a trader, and not a horse gambler at the track.
9) Find a strategy that suits you! You might realize you have a very busy life, put in 100 hours of research every several months, as this will pay dividends over the long run.
10) Knowledge is power and you can profit from that. However a wise man once said knowledge with experience can make you wealthier than you can ever imagine.
11) Get a crypto mentor and ask him what he reads, and why he reads it. The reason might surprise you. His news and educational sources might surprise you even more. Always be learning!
If you want our AMAZING DAILY UPDATES. Check out our Award Winning Daily Crypto Newsletter Here Analyzing The Crypto Markets For Investors —Click HERE!
Hope these tips help you in 2019 and beyond. Remember this investment motto.. Here it is. Motto : "You're the master of your own riches, so if you do not invest in yourself you will not make the profits that you really desire long term! Always be learning" So realize with crypto there is a learning curve to all this, and no matter how good you think you are, there is always something to learn.
Good luck, and happy investing.
Please UPVOTE THIS & SHARE With Your Friends..
Hope this helps. :-)