WILL BTC BE THE NEW US DOLLAR?
Update :
This is an urgent alert to all our members and VIP members.
Well, we aim to please with our chatterbot newsletter and we want to cover a topic lots of our subscribers keep asking us. This will be one of our most important updates, and we have some much info to cover we will have to cover this in two parts over a two week period.
Get FULL charts with CHATTER BOT FULL NEWSLETTER!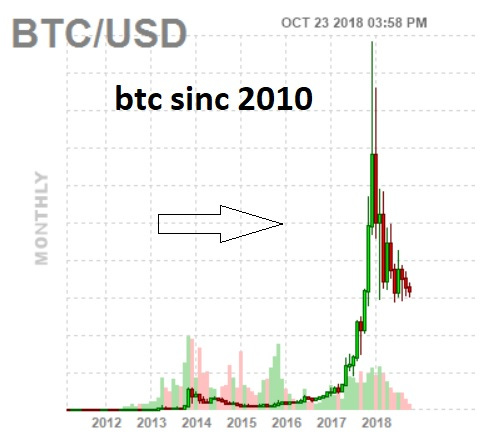 Can Bitcoin Become THE NEW US DOLLAR $$$ — PART I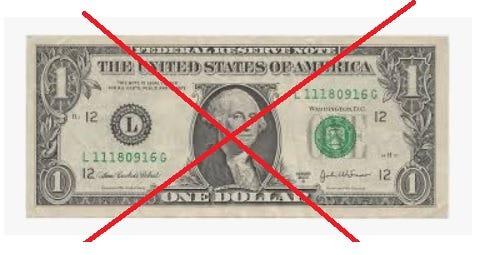 Of course bitcoin has gain so much notoriety that everyone is asking the question. Can BITCOIN become the next US DOLLAR? its a valid question we think. Proponents says there's a consumer need for an alternative currency, while detractors say cryptocurrencies will remain in the hands of mostly just the mom and dad type speculators.
If you were not aware, Bitcoin turns 10 at the end of the month. We have seen no shortage of of headlines about the quick and amazing, yet inevitable rise—or the inevitable fall—of it and other smaller alt coin in cryptoland!
Along with all the talk came a meteoric increase in bitcoin's price, culminating late last year. Bitcoin's price soared nearly 1,332% in 2017, hitting a high of $19,783.21 on Dec. 17. Since then, however, bitcoin's price has plummeted more than 66% to around $6,436, as of Oct. 19.
The price gyrations have come as alt coins and bitcoin itself is getting increased scrutiny.
In August, the Securities and Exchange Commission rejected nine proposals for bitcoin exchange-traded funds. Before that, the SEC rejected, for a second time, a bitcoin ETF proposed by entrepreneurs Cameron and Tyler Winklevoss. Getting approval for a bitcoin ETF could go a long way toward helping the crypto market attract mainstream retail investors, but the SEC has concluded that there isn't enough transparency in the cryptocurrency markets to be sure prices aren't being manipulated. The Wall Street Journal recently reported how bots are manipulating the price of bitcoin on crypto exchanges.
A report from the New York Attorney General's office in September shared some of the SEC's concerns which we will post below, but first something that we need to tell our members.
Timing is everything, and you simply can't time the crypto market with any consistency over the long run, even our members who claim our crypto chatter bot is highly accurate in calling the big ups and downs in the market, we have to admit this is not financial advice and we do not actually know what happens next, we are just formulating information prescribed to us from text, and chatter picked up on the blockchain, and handing that data over to you when we feel it necessary. You can get the full releases here and back issued calls as well below…..
Just a few weeks ago, we were shocked to see that Fidelity Investments announced last week that it will store and trade digital currencies, including bitcoin, for hedge funds and other professional investors. This is not only good news, its HUGE! We will tell you why…..
This means that the big money sitting on the sides of the market can now dip their toes in the water! YES! This is a trillion dollar asset class now, after 10 years, and where the cryptocurrency is often viewed as a haven from political and economic turmoil and a way of navigating financial obstacles, including a lack of conventional banking services.
Many professional argue about the fact of bitcoins risks, and global dominance. Will it really become the next USD!??
YES & NO!: There's a Need for Alternatives to Today's Currencies
Bitcoin, is having its 10th birthday on Oct. 31, and at the same time its having a very tough year. As of late October, the price of the cryptocurrency is down about 54% year to date, and has not cleared $10,000 since early March. No only is the price suffering, we have seen a series of rejections and delays by the Securities and Exchange Commission in attempts to launch bitcoin ETFs.
In our all knowledge and experience, the normal growing pains of a developing technology bitcoin is experiencing them all. The cryptocurrency has a long-term role in society as a universal, alternative currency—functioning both as a medium of payment and store of value, in economies where the fiat currency is unstable or subject to manipulation. We can see shop owners are starting to open their minds to what is going on, and what could be possible.
Right now, in 2018, there is a driving demand, for an alternative to fiat currency. Data from the International Monetary Fund's World Economic Outlook show that 50% of the world's population lives in countries where inflation was above 10%. This is quite staggering, and its cause massive swings and currency problems.
Countries with massive inflation, or highly unstable fiat currencies, people can't trust that the government-backed fiat currency to hold its value, and they seek an alternative, such as gold, traditionally. But lets say bitcoin fills this need in the future, its probably going to be rough, volatile and eccentric path.
Consumer-payments companies, such as Visa, Mastercard, PayPal and Alipay, are working make cash a digital thing, or to make it more like a digital token! They are doing this in an attempt to drive out criminals or corruption and improve global financial inclusion. But even then one must realize the stability of the underlying fiat currency and just how important that is. As bitcoin emerges as an alternative to unstable fiat currencies, it will open up many avenues to make payments, like on a credit card, but just in bitcoin, just like you can today in dollars, euros, australian dollars or any other major currency.
Many people bearish on bitcoin rarely argue with these design characteristics, however. Bears for bitcoin tend to simply focus on current limitations, arguing that bitcoin will never achieve the requisite level of stability, transaction capacity, security, ubiquity of merchant acceptance, meaning day to day use in our normal world. Plus the fact that governmental blessing has been nil in current times, they are very skeptical because bitcoin is untrustworthy and its the currency by choice for underworld drug lords and criminal gangs. This puts a little more doubt seeing bitcoin rise to the top and become a global dominant power in the end. But it feels to us that its fighting a good fight!
There are so many flaws in its design characteristics, however. We can focus on the price, and how much this has taken over the world, but you must realize, it does have its own limitations, there are many talking in the forums and on blogs, arguing that bitcoin will never achieve the requisite level of stability, transaction capacity, security, ubiquity of merchant acceptance, governmental blessing, and trust to function as an alternative currency and payment system. But although there are strong arguments there, it does not mean bitcoin will be a failure…..
Part II coming soon…
Have a great day.